FULL-FACE SNORKELLING MASK EASYBREATH JUNIOR
SPOTLIGHT ON THE INNOVATION BEHIND THE KIDS' EASYBREATH MASK
The innovative Easybreath Junior has a patented snorkel that lets kids breathe underwater as easily as they do on dry land.
Snorkelling can be challenging for kids for several reasons. First and foremost because of the difficultly of breathing through a snorkel and the risk of inhaling water, but also because the mouthpiece may not be adapted for kids. With this in mind, SUBEA's teams developed an entirely new technology that makes snorkelling totally accessible to kids.
NEW IN 2019 FOR KIDS AGES 6 TO 10!
Now kids ages 6 to 10 can start snorkelling easily.
The Easybreath Mask, the world's first full-face snorkelling mask, is now available for kids ages 6 and up, letting them see and breathe under water like they do on land!
With a new shape that adapts to the faces of kids ages 6 to 10 and a newly patented snorkel (dry-top-release system), the kids' mask is now even safer and more comfortable for kids.
A version for kids 10 and up was already available, but now with the new XS size, even younger kids can get into snorkelling.
FULL-FACE MASK INVENTED BY SUBEA FOR KIDS
Erwan, Subea's snorkelling product manager, explains the innovation behind the Easybreath Junior
EASYBREATH: HOW DOES IT WORK?
With the Easybreath you can breathe naturally through your nose and mouth.
Its panoramic 180° field of vision ensures a perfect view. Double air flow means fog is completely eliminated. To ensure that water does not enter via the snorkel, the Easybreath mask is equipped with a mechanism that plugs the top of the snorkel when immersed in water. The submerged part of the snorkel is orange, making it more visible.
MAKING SNORKELLING ACCESSIBLE TO ALL...
Subea's design teams work daily to make snorkelling accessible to as many people as possible. From the drawing board to the snorkelling aisle by way of design, production and logistics, our design teams look for ways to minimise costs at each turn.
In 2019, our design team was able to adapt the mask so that it fits small faces perfectly.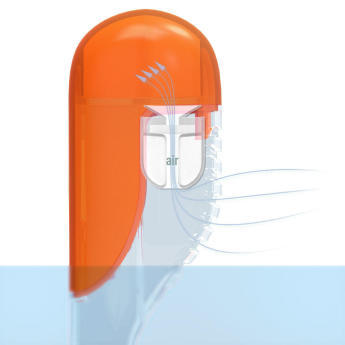 THE "DRY-TOP-RELEASE" INNOVATION
To help kids overcome the difficulties of snorkelling, SUBEA invented a technology that keeps them from panicking the first time they inhale under water.
The Easybreath Junior has all the same advantages as the adult mask (easy on/off, 360° view, and anti-fog system), but the dry-top snorkel on the adult model was still a bit too complicated for some kids, who panicked when it was time to breathe in under water.
So the teams at SUBEA got to work creating the "dry-top-release", the first of its kind. When the kid put his or her head under water the snorkel is blocked, but it allows air to pass once they surface, even though the "dry-top" system doesn't open. This patented innovation is orange on the snorkel and works thanks to a hole a few centimetres in diameter that lets air in while keeping water out...
Johan, Dialogue Leader Subea 
I'm Subea's dialogue leader. I've been an underwater sports enthusiast for over 15 years.
I've been a scuba diver since age 16 and have a current level 2 ANMP.
My personal goal for the year? Passing my PADI Advanced Open Water equivalent.
* The prices listed on the site are the prices recommended by DECATHLON SA's central purchasing department.