MAINTAINING YOUR SURFACE MARKER BUOY
How to maintain your surface marker buoy? Follow the guide!
Like all diving equipment, your surface marker buoy must also be maintained properly if you wish to keep it in the best condition.
Stefano, dive product manager from 2014 to 2016, offers some tips on keeping your equipment working well for longer.
OUR TIPS TO MAINTAIN YOUR SURFACE MARKER BUOY 
Video made with the expertise of our technical partner PlanetOcean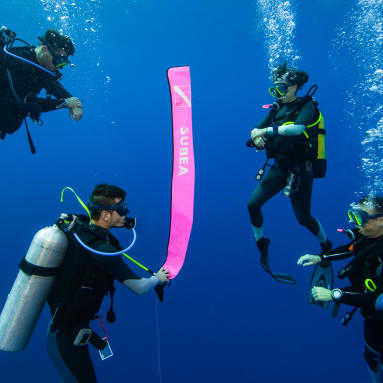 RINSE YOUR SURFACE MARKER BUOY
It is advisable to thoroughly rinse your SMB after each dive.
To do this, unroll your SMB and simply let it soak in fresh water.
Immerse it in the water, take it out : repeat this 4 to 5 times in succession.
If necessary, lightly rub the surface of the SMB to remove any grains of sand.
DRY YOUR SURFACE MARKER BUOY
Drain the SMB, then hang it on a rail with the attachment point and valve facing downwards. Fold the top slightly so that the SMB hangs down on the other side. Fix it with a clothes peg. And let the sun and wind do their work!
When it's completely dry, carefully fold it and store it in a diving bag in a cool, dry place.
Simple, right?
Baptiste, Subea Digital Manager
I'm the Digital Manager for the Subea brand. I'm keen on spearfishing and freediving and have been scuba diving for over fifteen years. I have my level 1 FFESSM and PADI certifications up to "Rescue" level.
 
* The prices listed on the site are the prices recommended by DECATHLON SA's central purchasing department.