HOW TO CHOOSE YOUR DIVE LIGHTING?
Want to invest in some dive lighting, but aren't sure what type of product to choose? Check out Subea's expert advice !
A diving lamp is essential for divers in certain situations (night dives, wreck dives, cave dives, etc...). Two types of lighting systems are common: small pocket torches and diving lamps. As the holidays approach, many divers are already thinking about their gift list - and it might well include a diving torch or lamp !
Discover the various types of diving lights and their characteristics for use when scuba diving.
OUR ADVICE FOR CHOOSING YOUR DIVE LIGHTING
WHY ARE LIGHTS NECESSARY WHEN DIVING?
Lights are required when diving for two main reasons.
First of all, we need light to help us fully enjoy the vibrant colours of the coral and fish that we come across. Also, if you want to take underwater photos or video, good lighting is essential. Secondly, a diving torch or lamp can be very useful in order to light up a dive on a wreck or in a cave, as well as during dives with very low visibility, such as night dives. Lights can also serve as a vital means of communication during certain dives, for example when diving underground.
DIFFERENT TYPES OF DIVE LIGHTS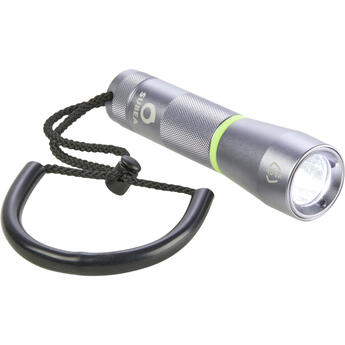 DIVE TORCH
Lights of this type are generally used as backup on dives where visibility is already pretty good. This is because torches are not usually very powerful, with most models only illuminating up to 2m. Some diving torches have a strobe system in order to be more identifiable in the water. These lights generally use ordinary batteries, which can be an advantage in case of occasional use, since they won't discharge as quickly as a rechargeable battery. Also, a torch is often smaller, making it easier to transport in your luggage as well as during your dive, where it can be stored in your BCD.
DIVING LAMP
Unlike a torch, a diving lamp has a much larger beam (generally from 20° to 40°), as well as being much more powerful (up to 800 lumens or more). This type of accessory provides more illumination than diving torches, and is generally more suited for certain types of dives (i.e. night dives.) However, diving lamps do require rechargeable batteries. It's also important to check their autonomy (burn time) before diving, since some models may be very strong but with a short burn time, or vice versa.
DIVE LIGHTING: TECHNICAL CHARACTERISTICS
The market for diving torches or lamps covers two main types of lighting: photo/video lighting, and backup lighting. Unsurprisingly, these include different products with different technical characteristics specific to each need. There are differences in terms of power, lighting angle, and even the temperature of the colours. Let's look at these different criteria in detail.
Temperature of the lighting colour
The closer the colour temperature is to actual sunlight, the more your light will be able to bring out the "real" colours of the reefs or fish that you see. Also, though it seems counter-intuitive, blue is actually 'warmer' than red (the temperature of a blue flame is higher than that of a yellow flame), which has an influence on the lighting temperatures that must be taken into account when choosing your lamp. NB: the output of an HID or LED bulb is almost twice as strong as that of a halogen bulb.
Another element to consider is how much lighting time the battery will provide. A canister model (lighting head separate from the battery) will not necessarily have a longer burn time (i.e. more autonomy) than a simple all-in-one model. It's therefore important to consider the bulb used for the lighting: for example, a halogen bulb uses more power than an LED bulb. When comparing two different bulbs, we refer to "lumens",.The more lumens the lighting can provide, the stronger the lamp.
The choice of the lighting angle is also an important criterion for determining the type of torch that you might want. A wide lighting angle may not necessarily be worthwhile if you're only interested in a backup light for communicating, but it could be just the thing if you're interested in underwater photography.
LAST CRITERIA FOR CHOOSING YOUR DIVE LIGHTING
A few other criteria must be considered when choosing your dive lighting. Over and above adjusting your dive weights, carrying a heavy light may prove tiring during a long dive. Also, bulk is another criterion to be taken into account. Some divers like canister lights, since the bulk is limited to the head containing the bulb, but this nevertheless implies having to install the battery somewhere on your BCD / wing.
DIVE LIGHTING MAINTENANCE
Now that you're familiar with the various criteria for properly choosing your dive lights, let's have a look at maintaining your accessories! It's important not to neglect this essential upkeep, so as to extend the useful life of your equipment.
Alexandre, salesperson at Decathlon in Coignières
I have been a salesperson at Decathlon in Coignières and a scuba diver for 9 years. Although mainly specialised in cave diving, I do enjoy all types of diving. I am currently FFESSM level 3 with a "Technical Full Cave Diver" speciality.
* The prices listed on the site are the prices recommended by DECATHLON SA's central purchasing department.