CHANGING YOUR BUOYANCY COMPENSATOR'S INFLATOR HOSE AND DUMP VALVE
We have some tips for you on how to rejuvenate your scuba diving buoyancy compensator
If it has a few dives under its belt, you might be wondering how to replace some of the bits and pieces. All hands on deck! It's lesson time!
CHANGING THE INFLATOR HOSE
As a reminder, it is an inflator that is used to inflate/deflate your BCD, so it must always be within reach.
To replace your inflator hose, you do not need any tools, just a new inflator hose available as a spare part from your local store.
- Unscrew the elbow of your inflator hose and remove it completely-
- Remove the old seal and clean off any dust or dirt, then replace with the new seal
- Replace the inflator hose and screw it back in place
Some bonus tips: once you have replaced it, remember to test it before your next dive. And remember to regularly check the condition of your seal as a preventive measure.
INSTALLING A NEW DUMP VALVE
Your buoyancy compensator features the inflator hose we mentioned earlier, a "slow" pressure relief valve and three faster dump valves (on the shoulder, lower back, and a pull dump for emergencies)
- Unscrew the valve cover and remove it-
- Make sure there is no dust or dirt inside the valve
- Remove the seal without using sharp objects. You should be able to do it using your finger
- Cut the knot on the inner seal holder. Important! If you do not need to change the entire dump valve pull cord, do not remove it completely
- Prepare the new dump valve by replacing, in the following order: the cover, the spring and the new seal holder, then tie off with a knot. Little tip: you can burn the end of the knot to stop it coming undone.
- Install the new seal, checking that it is correctly in place
- Put the seal holder back in place, position the spring, and finally, the valve cover.
- Tighten the assembly, without over-tightening to avoid damaging the new seal.
Before each dive, check it is working properly and regularly check the condition of your seal so that you can replace it as soon as necessary.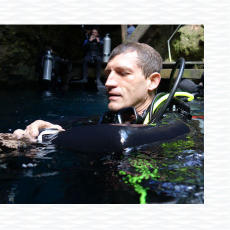 Erwann, Subea Product Engineer
I am a product engineer at Subea for diving regulators. I have been diving since I was 8 years old and I have all my FFESSM certifications up to CMAS One Star instructor as well as PADI Divemaster.
I am also passionate about underwater photography, and my work is guided by a desire to make this sport accessible to all.
* The prices listed on the site are the prices recommended by DECATHLON SA's central purchasing department.