10 GOOD REASONS TO PRACTICE FREEDIVING
Still not sure that you want to discover all the benefits of freediving? Subea lists its top 10 benefits of freediving! 
Free diving is a readily accessible and cheap sport or leisure activity that provides numerous physical and benefits right from the very start and even at the most basic level.  Check out Subea's short list that you are free to complete yourselves!
NEW 2019, FINALLY FOR KIDS FROM 6 TO 10 YEARS OLD !
Snorkeling becomes accessible for children from 6 to 10 years old.
Easybreath, the world's first full-face snorkelling mask. Finally available for kids from the age of 6 to see and breathe underwater just like on dry land !
With sizing adapted to the morphology of the face of children from 6 to 10 years old and a new patent about snorkel (dry-top release system), Easybreath Junior becames more comfortable and adapted for the safety of the youngest.
A CHANGE OF BEARINGS IN AN UNDERWATER WORLD
What better than contemplating the majestic, diversified and colourful marine fauna and flora from close at hand, just behind your diving mask? A totally new universe that transports you to a brand new and disconnected world. Don't miss out on it!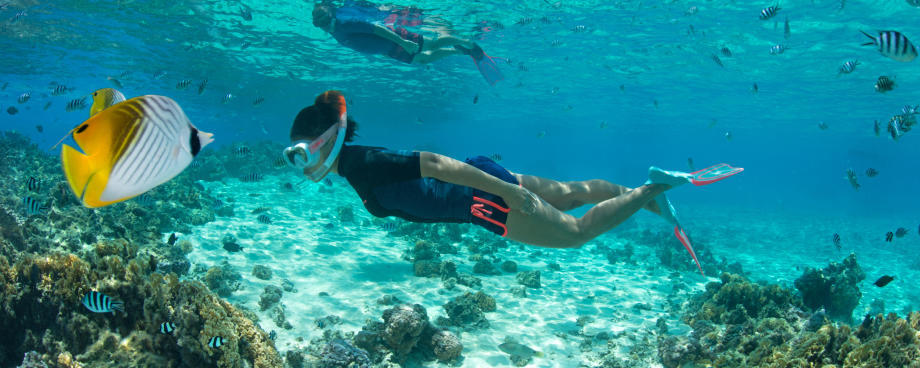 Swimming is one of the most complete sports. Without even realising it, when you go freediving, you exercise many of the muscles in your upper (triceps, dorsal, abdominal, etc.) and lower (thighs, buttocks) body. Your shape, lungs and cardiovascular system will all be grateful!
GETTING TO KNOW YOURSELF IN DEPTH
When faced with underwater life, the clock or the depth, you will feel alone with yourself. Freediving can stimulate intimate thoughts that reveal the secrets of your inner soul.  
FREEDIVING TARGETS THAT BUILD YOUR SELF-CONFIDENCE
Static, dynamic and deep-water freediving are all means of pushing yourself to the limit, of achieving the unachievable and competing with others, as a means of boosting your own self-confidence. It will make you feel stronger.
FEELING EMOTIONS UNDER THE EFFECTS OF PRESSURE AND REPETITION
You will often feel a sense of well-being, both during and after your freediving sessions. The very special environment, the increased pressure and the repeated dives can produce intense feelings of happiness, fulfilment and calm in the course of a single session. Addiction is recommended!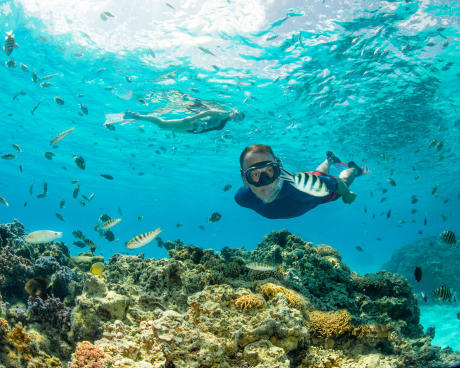 BUILDING YOUR KNOWLEDGE OF THE WORLD OF FREEDIVING
You will discover much about underwater life, physiology and anatomy during your activity as a freediver.   So why not start off with the basics my reading our freediving glossary?  
The more the merrier, and the safer too! With friends or the family, with or without the kids (who can also learn to freedive with the Subea PMT beginner's kits), freediving can be a bonding experience that creates a real team spirit and a sense of solidarity. 
Diving with a club or on a trip and sharing a common passion also offers many opportunities to meet new people, discover new cultures or learn new techniques.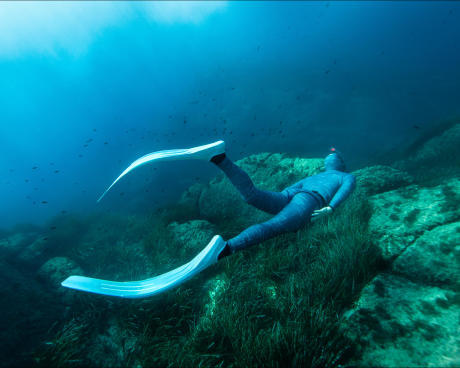 STEALTHILY DISAPPEAR INTO A NEW WORLD
Diving without any heavy or bulky equipment, and without the noise of air bubbles, offers a unique approach to underwater life. You are also more free and streamlined, so you have greater control over your movements. You are discreet and stealthy enough to come close to fish that you have never seen before. 
SHARING UNFORGETTABLE MOMENTS WITH OUTSIZE SEA MAMMALS
Freediving is a great way to meet dolphins, whales and other marine mammals, with which you can share unforgettable moments. 
Even in a lagoon, near the beach or in a creek, you can enjoy magic encounters at freediving spots. And all this, while protecting their privacy and their environment!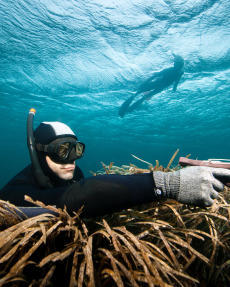 Baptiste, Subea Digital Manager 
I'm Subea's Digital Manager. I am a freediving and spearfishing enthusiast, and an FNPSA-qualified instructor.
I have also been a regular SCUBA diver for more than 15 years. I started training when I was still a student, a long time ago... I am now qualified to dive alone to a depth of 60 metres. 
My underwater goals this year? 5 minutes of static freediving and freediving to a depth of 40 metres at constant weight...
* The prices listed on the site are the prices recommended by DECATHLON SA's central purchasing department.